Alright, I'm gonna give you a quick run down about what is going on here in the mar of the vina! ha ha
It was a great week--a week of historic moments is Chile! First off, Chile won the LA CUPA AMERICA for the first time in the historia of the country, which was absolutely crazy!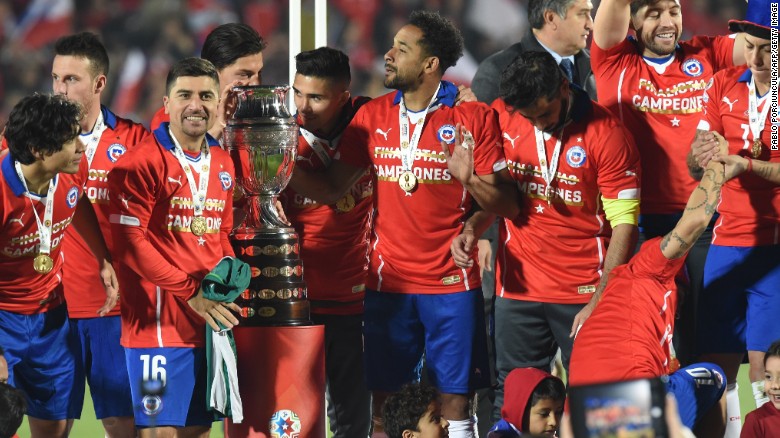 Footballl is life here in Chile so when they won on Saturday . . . wowowowowowowoowowow I've never seen such a riot! Everybody was going crazy. Everyone in the streets! It was awesome to be here when they won! We actually had to go back to the house a little bit early when they won because it was so crazy!
Also we had a special conference here in Valpo because we are now two stakes, so that was awesome. There were like 2000 people there and elder Zeballos came from the 70's and he gave a great talk. It was freakin' sweet!!
I'm in the choir right now so I got to sing at the conference.
Also my new presdiente is awesome. I really love him!!!!! He is soooo different the old presdiente, but I love him to death. I'm seriously so excited to work for him. He is just one of those guys that makes you want to become better. He is way cool!
But it was an awesome week. I got to see all of my old comps except for Elder Santillan. :)))) It was like seeing the family again!!
Oh ya, this week I worked in all rain, which was soooooo pretty, and fun. I don't know, at this point in my mission I really love it all! I am just enjoying all of it and it's crazy because I feel like it's flying by and its going too fast! ha ha
I had a great birthday. Seriously, it was different, but it was awesome! I had to give a talk in church and then we celebrated it at my converts house and she made me a cake and everything.
I'm doing great. My comp and I are doing awesome. I love him! I
have learned everything about Lord of the Rings! ha ha My comp is like a Lord of the Rings legend you could say ha ha! He loves Lord of the Rings, Star Wars and Harry Potter, and he is giving me the run down of all the books of Lord of Rings. Right now we are in book #1 and it's been fun!
But everything is good! ummm, we still haven't had a lot of success, but it's good. It's what I need, and
It's really teaching me a lot. You learn most when you don't get what you want!
We finally found like a really solid investigator! Finally! ha ha ha She is awesome!! She's been struggling a lot in her life for a while now, but it is really fun to see the gospel start to change her life, along with mine. I am really grateful for her and to finally get a little something going here.
But, I'm doing super good here.
I've really been learning a lot. I just finished the Book of Mormon again! I'm trying to think of another way to study it next time around! if you have any ideas let me know!
I love you guys! Vamos Chile!!! Les Amo